NatWest Whitland one day a week opening prompts petition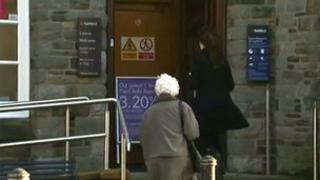 A petition has been launched against plans to cut the opening hours of a Carmarthenshire town's last bank to one day a week.
From 20 February, the Whitland branch of NatWest, currently open from Monday to Friday, will open only on Tuesdays.
NatWest blames low customer numbers, but says no jobs will be lost.
The bank is also planning to cut branch opening hours in Llandysul, St Clears, Tenby and Tregaron, but will open an extra day a week in Narberth.
Whitland Town Council said it was particularly worried about the elderly, who may not be able to drive to nearby towns for banking services.
Businesses in the town are also concerned about the reduced hours, saying they need to transfer money in to the bank on a regular basis.
Derek Rees of PBK Plumbing said the news was disappointing, and he needed to visit the bank three times a week.
He said one day a week was not good enough for a town of 1,800 people.
"It's difficult enough out there for businesses as it is without people taking away the services that you need," he said.
"The problem is that the hours were short - they've just made them shorter."
"You'll need to go to St Clears or Narberth during business hours - this means if you're on your own in the shop it's pretty impossible.
"You've either got to get someone in to run the shop for you or you've got to close up.
"We're hoping that they will change their mind or possibly give us additional days or hours in the week when it's easier for businesses to do their banking."
Losing custom
Whitland mayor Vivienne Morris said the petition and letters would be followed by a public meeting, as the town could not afford to see its last bank reduced to one day a week.
"A bank shows confidence and security in a town," she said.
"If it's only open one day a week, people say they're not going to use that bank, they may then set off to go to St Clears or Narberth, or continue onto Carmarthen and do their shopping there.
"It's going to be devastating for our economy."
Huw Thomas, NatWest's chief executive officer for its west Wales retail region, said the cuts were in response to falling use.
Redeploying staff
"The workload at these branches no longer justifies the current opening hours," he said.
"Critically, reducing hours will enable us to maintain a branch presence where we might otherwise have had to consider closure.
"For example in Whitland, we are maintaining a presence in line with our customer charter pledge not to close where we are the last bank in town."
However, Mr Thomas added that in other areas, Saturday opening and longer hours were being introduced in response to customer demand.
"Our branches in Lampeter, Aberaeron and Narberth have been open on Saturdays since November, and in February customers will also be able to bank with us on Saturdays at St Clears and Newcastle Emlyn," he said.
"We have also recently extended opening hours at six of our branches in west Wales - at Aberystwyth, Cardigan, Haverfordwest, Milford Haven, Pembroke and Ammanford.
"We are open to customers for an additional 20 hours per week at these branches which are now open longer.
"These changes ensure our staff are deployed at our busier branches in the area, at the busiest times."