Swansea bus crash: Pedestrian dies of injuries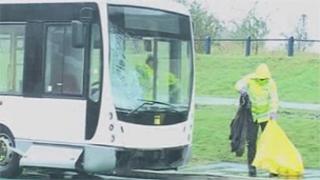 A pedestrian injured in an incident involving a bus in Swansea on Monday has died, say police.
The unnamed man had been rescued from underneath the bus on Fabian Way following the collision.
Ten of the 15 passengers on the bus were treated for shock and South Wales Police closed the road for three hours while officers investigated.
The seriously injured pedestrian was taken to hospital but died on Tuesday evening.
After the incident the bus was removed from the scene and the road reopened.
The name of the dead man has not yet been released.