New promenade plan at land-speed record beach Pendine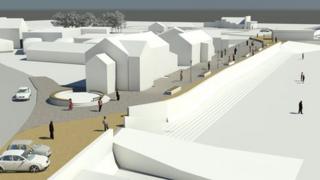 A village famous for its land-speed record attempts will see work start in the new year on a £500,000 project to improve the seafront.
A new promenade will be built at Pendine in Carmarthenshire, along with landscaping works.
Its seven-mile long beach has been used for various record attempts detailed in the village's Museum of Speed.
Carmarthenshire council hopes to increase visitor numbers and extend Pendine's tourist season.
The new promenade will link to the Wales Coastal Path, which is due to open in 2012.
The EU-funded investment will also see a new public square close to the foreshore.
During the 1920s Pendine was used by both Sir Malcolm Campbell and JG Parry-Thomas as they battled to set new world land-speed records.
Mr Parry-Thomas died in one attempt in 1927.
More recently, it has hosted other speed record attempts, including one by an electric car and another by a lawnmower.
An exhibition of the plans for the seafront will be staged at the museum in January.
The council said it planned to carry out the work during the winter months to minimise disruption.
Clive Scourfield, the executive board member for regeneration, said: "The promenade plans are aimed at providing an attractive focal point for visitors entering the community.
"Pendine has the potential to be a first-class leisure destination and our aim is to work together with the local community to realise that aim."