New Year Honours: Girl guide stalwart Alice Morgan's MBE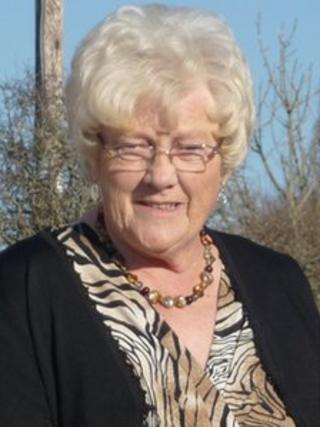 After more than three decades helping at the grassroots of girl guiding, Alice Morgan is among those honoured in the New Year Honours list.
Mrs Morgan, 70, from Roch, near Haverfordwest, Pembrokeshire, becomes an MBE for services to the movement.
Prof Robert Owen Jones, from Pontarddulais, becomes an OBE for his Welsh language work in Patagonia.
The breast cancer surgeon Simon Holt is also among those appointed MBE in south west Wales.
"It was a thrill to hear about the honour, I was gobsmacked," said Alice Morgan, who still helps out as a unit assistant for her local guides.
"I've been involved with guides for too long to remember - I've been in the grassroots of it for some 30-odd years.
"It is nice to see someone at the grassroots level having something, rather than them going to those who wear all the extra hats."
The former teacher, a community councillor and a supporter of other local charities, Mrs Morgan said she was now looking forward to the day she can pick up her honour, along with her daughter Debby.
"It is lovely - we are going to make more than just a day of it," she promised.
Welsh Patagonia
Robert Owen Jones, emeritus professor of Welsh at Cardiff University is appointed OBE for services to safeguarding the Welsh language in Argentina.
It recognises his work on the social history of the Welsh language over the last century in Patagonia.
Breast cancer surgeon Simon Holt is honoured with an MBE.
Mr Holt, 60, works at Prince Philip Hospital in Llanelli, Bronglais Hospital in Aberystwyth and for Breast Test Wales in Swansea.
He fronted a bid for a new state-of-the-art breast care unit that opened at Prince Philip in 2010.
Members of the public donated around £1m towards the £6.6m project.
Mr Holt said the MBE was a tremendous honour but added: "No project like this happens without a big team of people.
Cancer research
"I accept this on behalf of the many people who have supported the unit over the years."
In December, he published world-leading research that showed how a genetic test could help reduce the number of breast cancer patients put through unnecessary chemotherapy.
The chief executive of Carmarthenshire council, Mark James, is made a CBE, while the head of economic development at Pembrokeshire council, Kefin Wakefield is appointed OBE.
Across the rest of south west Wales another nine individuals become an MBE, recognising work in charities, science, farming and the economy.
They include Beatrice Rees from Milford Haven, Pembrokeshire, for her charity work, and both Swansea magistrate John Davies and Peter Muxworthy from Gower for their services to the community.
Carol Greenstock, of Llandeilo, Carmarthenshire, is honoured for her service to economic development across Wales, while the former National Farmers Union Cymru director Malcolm Thomas becomes an MBE.
The work of Beti Williams at Swansea University sees her appointed an MBE, for services to women in sciences, engineering and technology.
She set up IT Wales in 1993 at the college's school of physical science, encouraging computing graduates into careers.
Noah's Ark appeal
Christopher Reed, of Llanelli, is recognised for his services to the Scout movement, while Alexander Parry from Ammanford is made an MBE for his work as a community liaison officer for the Serious Organised Crime Agency.
The community work of George Green, who was made the high sheriff of Dyfed 20 years ago, is recognised with an MBE.
Mr Green, now 82, helped run Pembrokeshire's efforts to raise money for the Noah's Ark appeal when it was originally set-up to build the Children's Hospital of Wales in Cardiff.
He is also master of the Guild of Freemen of Haverfordwest, the town where he was perhaps best known for his long relationship with his family's car dealers and garage.
"It came as a complete surprise. I didn't think for one second that I'd be on the list - it was certainly a pleasant surprise," said Mr Green.
"I feel more humble about it than anything. I can just think of so many people who should be recognised more than me.
"But it is nice to know that people have recognised the work that you have put in over the years."