AM claims Llanelli hospital A&E bypassed by ambulances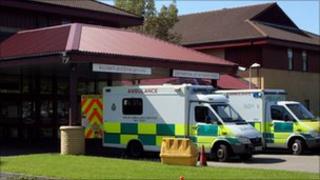 A Llanelli assembly member claims his local hospital A&E department is being bypassed by the ambulance service.
Figures seen by Keith Davies suggest patients are being sent to Carmarthen instead of Llanelli's Prince Philip Hospital or Morriston in Swansea.
Plans to downgrade A&E at Prince Philip have been published but the health board says its future is secure.
The Welsh Ambulance Service said it worked to ensure patients were sent to the "appropriate healthcare setting".
A total of 20,887 people attended Prince Philip Hospital's minor A&E unit during daytime hours in the 12 months up to November, figures released under a Freedom of Information request showed.
A further 8,745 went overnight. Of all attendances, only 3,709 were brought in by ambulance following an emergency call.
Mr Davies claimed the unit had the highest number of private daytime attendances of all the major hospitals in Carmarthenshire and Pembrokeshire.
However, he questioned why ambulances appeared to be bypassing Llanelli in favour of Carmarthen's Glangwili Hospital, with 2,684 patients taken by ambulance there from Llanelli postcodes.
An additional 1,180 were taken to Morriston Hospital.
'Key areas'
Mr Davies said: "In a written response to me, Hywel Dda Chair Chris Martin confirmed that the range of emergency care available at Prince Philip Hospital was limited to a few key areas.
"Despite this, large numbers of people continue to present themselves for treatment at their local hospital. But what concerns me is that ambulances are bypassing Prince Philip.
"I have received numerous complaints from patients who say they are being brought to Carmarthen for emergency treatment.
"In the majority of cases Morriston is closer and more accessible for friends and family visits.
"With the emphasis on also providing high quality specialist care, Morriston Hospital is better suited to deal with the needs of Llanelli residents.
"The health board says that there is no agreement in place with the ambulance trust but the figures speak for themselves."
He added that local people expected better emergency care at Prince Philip and called on the health board to "take note of the needs of our area".
A statement from Hywel Dda Health Board, which administers Prince Philip and Glangwili hospitals, said the majority of care provided at Prince Philip was minor in nature, and this would continue to be provided.
"Emergency surgery is not carried out and there are limited back up services (eg surgery, trauma and paediatrics)," it said.
"Therefore the department does not comply with Royal College of Emergency Medicine guidelines in terms of what is required of a full emergency department facility.
"Protocols are in place with Wales Ambulance Service Trust to take patients to the most appropriate clinical setting based on their individual needs, and to this end, a Memorandum of Understanding has been agreed between Hywel Dda Health Board, ABMU [which runs Morriston] and WAST."
The statement added the future of the hospital as a major healthcare provider was secure.
A Welsh Ambulance Service spokesperson said: "We work closely with our health board partners to ensure that we take patients in our ambulances to the most clinically appropriate healthcare setting as suited to the patient's need."