Morriston traders in Tesco, Sainsbury's and Morrisons appeal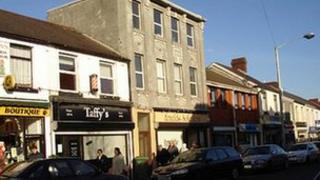 Business leaders in a Swansea district have written to three supermarket giants urging them to move to their area after a store closed.
Morriston Chamber of Trade has been in touch with Tesco, Sainsbury's and Morrisons after Somerfield pulled out in November.
Chamber chief Mike Cotton said the loss had hit the area hard over the festive period.
He said independent shops had relied on the trade generated by Somerfield.
Some towns in Wales have strongly opposed plans by supermarkets to build in their towns, but Mr Cotton said traders in Morriston wanted a major grocery giant to move in.
He said when Somerfield in Woodfield Street shut on 19 November the chamber of trade, which has 25 members, decided to try and do something about it.
"The town centre was deserted over the Christmas period and people went to out of town shopping areas," Mr Cotton added.
"A lot of independent traders relied on the trade Somerfield generated in the town.
"Morrisons announced before Christmas that it was to open some mini stores. One of those or a Tesco Extra would be absolutely ideal in Morriston."
Mr Cotton said he was hopeful one the supermarkets giants would grant the traders their new year wish.
"It's a bit odd, I know," he added.
"Some communities oppose supermarkets building in their towns, but we are going completely the other way. We want them here."
He said Tesco and Morrisons had replied to the chamber of trade's letter and were considering the request.