Swansea beach motor sport race backed for March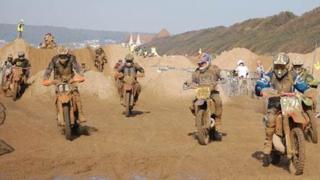 Business leaders have welcomed plans to close a mile of Swansea's seafront to host a three day off-road motor sport event.
Organisers, who have attracted 80,000 to watch racing in Somerset, hope for similar numbers in March.
Thousands of tonnes of sand will be moved to create man-made dunes for motorcross and quad bike courses.
Swansea council's cabinet agreed to a one year trial but there are concerns about the noise and the environment.
Economic benefits
RHL Activities has run the Weston Beach Race at Weston-super-Mare for more than 10 years.
It approached the council to stage an annual three day Welsh Beach Race in Swansea, near the civic centre, starting in March.
Cabinet member for regeneration Graham Thomas said it was difficult to gauge the economic benefit for Swansea but the Weston race was worth over £3m a year to the local economy in Somerset.
Council officers visited the Weston event in October and said it was well run.
The proposal involves closing a large area of Swansea's beach during the build-up to allow the creation of a circular course about three miles long including up to 40 dunes, drops and jumps of various sizes.
Mr Thomas said the costs would be covered by the organisers and the beach restored as soon as the event was over.
'Unacceptable effect'
Over a mile of the promenade from the Marriot Hotel to Brynmill Lane will be closed to non-paying public between Thursday 1 March and Sunday 4 March.
Russell Greenslade, chief executive of Swansea BID, which represents over 800 businesses in the city centre, said there was "total support" and he was delighted it had been approved.
"We will be working very closely with the local authority to make the most of it for the city centre and the businesses within it," he said.
"It will be welcomed by restaurants, hotels, pubs and retailers.
"It is a sensible approach [to trial it for a year] but from the feedback we've had from Weston hopefully it will become an annual event after it's been properly assessed."
A report that went before the council's cabinet on Thursday warned there would be a number of logistical challenges, environmental concerns and potential noise pollution.
Resident Sybil Crouch said: "It will prevent people from using the beach or prom.
"We need environmentally friendly and sustainable use of the beach.
"What concerns me is the council's own report about the noise is very clear - it will have an unacceptable effect on residents."