L/Sgt Dan Collins death: Funeral for soldier who 'suffered stress'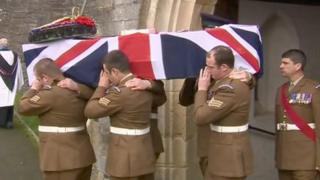 The funeral of a soldier who was found hanged in a Pembrokeshire quarry on New Year's Day has taken place.
Welsh Guardsman L/Sgt Dan Collins, 29, was given full military honours for the service at St Mary's Church in Cardigan where around 300 mourners attended.
His family said he faced a battle with post traumatic stress disorder (PTSD) after serving in Afghanistan.
A Bridgend-based PTSD charity has received dozens of calls for help since L/Sgt Collins' story was told.
During the service, Rev Kevin Jones, chaplain of the 1st Battalion of Welsh Guards, spoke of L/Sgt Collins' battle with post traumatic stress following his tour of duty in 2009.
After the service, a collection was made for the charity Healing the Wounds, which offers counselling and support to past and present servicemen and women and their families, and others like them.
Lt Col Dino Bossi, L/Sgt Collins' commanding officer, said: "He was an extremely bright personable popular man and he was also a skilful soldier.
"He was an enormous loss and this is a massive tragedy which will I think reverberate through the battalion."
L/Sgt Collins family says it wants to support Healing the Wounds.
The charity's co-founder Kevin Richards, a former Army medic, said the charity had been inundated with emails and phone calls from soldiers and concerned family members after L/Sgt Collins' girlfriend Vicky Roach spoke out publicly about his suffering.
She said her partner, from Tiers Cross, near Haverfordwest, faced a "constant battle" with PTSD after being shot twice and losing two close friends in Helmand Province.
In an interview with BBC Wales she said: "If you lose a leg or an arm - don't get me wrong, that's horrendous - but you deal with it and you move on.
"He couldn't move on, there was no way of him moving on.
"It was a constant battle in his mind every day, and he was fighting this battle.
"If we can just save one soldier in the future it will mean the world to us."
'Dan's legacy'
Mr Richards said that following the publicity, the charity had received around 40 emails and 30 telephone calls from all over the UK, including Scotland and Devon.
"Many of these people have been suffering for many years with PTSD and are finally seeking help," he said.
"We've also had partners of men ringing saying their husband is suffering and they've been trying to get help.
"There is still a stigma attached to PTSD for many soldiers so the more this is talked about the more people will come forward.
"So hopefully Dan's legacy will be to save many lives."
He said all those who contacted the charity for help would be given it, although it currently has around 30 people on its waiting list.
Funeral donations
"Unfortunately we rely on fundraising so can only do so much," said Mr Richards.
"But we have got to make sure these men and women can cope with what they have gone through."
L/Sgt Collins' family have asked for funeral donations in lieu of flowers to be given to Healing the Wounds.
An inquest has been opened and adjourned into his death.
The Ministry of Defence said the serving member of 1st Battalion Welsh Guards was under their care and having treatment for PTSD at the time he died.