Stranded cat rescued from M4 sign at Briton Ferry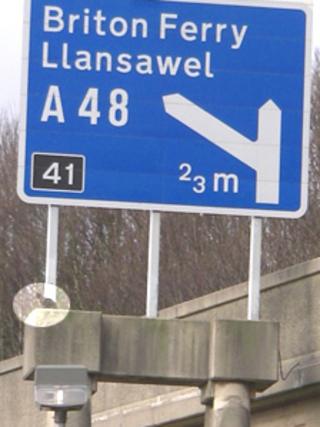 RSPCA officials have thanked a man who used a crane lift to rescue a cat stuck on a 50ft (15m) motorway sign platform.
Police organised a rolling road block on the M4 at Briton Ferry, near Neath, while the rescue took place.
The distressed tortoiseshell cat is thought to have been stranded on the platform for up to 24 hours before being reunited with its owner.
Scaffolder Hugh Norville called in a friend with the crane after deciding he would not be able to reach her.
A RSPCA spokesperson said the cat was being watched by a number of people, including staff at a nearby Tesco garage, during its ordeal last Thursday.
The spokesperson said: "There appeared to be no way out of the situation for the cat apart from retracing her route there and jumping back up across onto the M4, but of course heavy traffic during the day may have put her off."
A fire crew was unable to lead an immediate rescue operation due to safety reasons, the RSPCA said.
"While the police executed a rolling road block, Mr Norville was then able to mount the cherrypicker (crane lift) and rescue the cat from the platform using some food as enticement."
RSPCA inspector Nic de Celis said: "They do say that cats have nine lives and this one has certainly fully used up one of these in this daring adventure!"