Fungi and worms in Aberystwyth tree survival study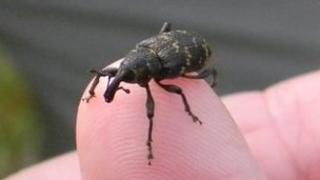 A cocktail of insect-killing fungi and microscopic worms is being used in the fight against a woodland pest which can decimate newly planted trees.
Tiny parasitic worms called nematodes have been used since 2007 to fend off attacks by the large pine weevil.
But scientists in Wales have now started mixing the worms with fungi in water, and they found this cut the weevil population by 50% during trials.
The creature is regarded as the biggest pest in British and European forests.
Scientists, foresters and land managers from across Wales, the UK and the Republic of Ireland, are meeting at the National Botanic Gardens in Llanarthne, Carmarthenshire, on Tuesday to discuss the latest developments in pest control.
Researchers claim that as the climate becomes warmer and wetter, conditions might improve for the weevil and other pests, so new controls have to be found.
Weevils, or hylobius abietis, feed on the bark and the lower part of the stem on young trees.
They are about 10mm long and they usually lay their eggs on tree stumps.
Forest Research in Wales, which is part of the Forestry Commission, is leading a project in Aberystwyth called IMPACT - integrated management of forest pests addressing climate trends.
It is working with the National University of Ireland and Swansea University to find alternatives to pesticides.
Scientists have developed the new fungi/nematodes cocktail which is sprayed on areas infected by the weevil.
'Highly promising'
Prof Hugh Evans, the head of forest research in Wales, said: "Hylobius can kill up to half the young trees after re-planting.
"Now latest results from trials suggest that a cocktail of insect-killing natural agents can be used to attack and kill the larvae, pupae and young adult hylobius, reducing the pest population by at least 50%."
Microscopic entomopathogenic - which is defined as capable of causing disease in insects - nematodes attack and kill pine weevils within 48 hours of entering them through natural body openings.
But combining them with fungi is having a greater impact.
"Building on the pioneering work of our project partners at Swansea University, led by Prof Tariq Butt, we are testing insect-killing fungi alongside the nematodes, both on their own and in a cocktail of nematodes and fungi, at reduced concentrations compared to using them separately," added Prof Evans.
"Results are highly promising, giving excellent natural control, further reducing the need for chemical protection of young trees."