Walkers helped off Corn Du mountain in 80mph winds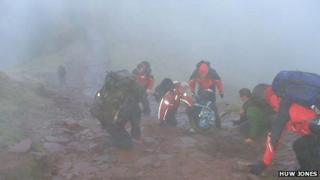 A group of walkers have been rescued by a mountain rescue team who came across them while walking themselves on a Brecon Beacons peak.
The Central Beacons team came across the five hunkered down in 80mph winds at the summit of Corn Du on Saturday.
Although uninjured they were too worried about being blown from their feet to make their own way down.
They were helped one-by-one down the 873m (2,864ft) mountain, in what the team described as "exceptional" gusts.