Swansea Signode plant jobs under threat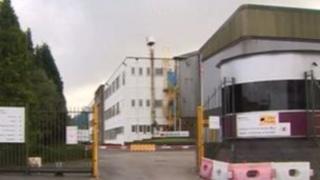 Almost 50 jobs are under threat at a factory in Swansea which makes polyester strapping.
Workers at the Signode plant have been told the manufacturing side of the business may be moved to Germany and the Netherlands.
The company confirmed plans to open talks with unions.
Just over 50 people are understood to work at the plant in Fforestfach that makes strapping such as that used to transport concrete blocks or bricks.
A spokesman for Signode cited rising costs in a competitive market for the planned move.
One worker told a local newspaper the jobs were well paid and staff would find it hard to secure similar posts.