Pembrokeshire College pays tribute to student after meningitis death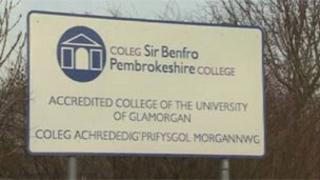 Staff and students of Pembrokeshire College in Haverfordwest have paid tribute to a student who died after contracting meningitis.
Principal Sharron Lusher said they were "devastated" and offered the student's family their condolences.
The student, who has not been named, is believed to have died between Thursday night and Friday morning, says Public Health Wales (PHW).
Immediate family and close friends have received antibiotics.
The student contracted the meningococcal serotype group B strain.
Ms Lusher said: "Staff and students from across the college wish to extend their heartfelt condolences to the student's family and friends.
Receive medication
"We are all devastated by the news and will be offering support to any students affected by this tragedy."
PHW said that it had written to students at the college to keep them informed.
The letter said students should be vigilant for any symptoms, but they were not thought to be at any risk.
Dr Mac Walapu, consultant in communicable disease control for PHW, said: "We have been made aware of the death of a teenager from Pembrokeshire.
"Laboratory results have indicated that the student had meningococcal serotype group B.
"We have arranged for people who were in close contact with the teenager to receive medication which will prevent them from becoming ill.
"Public Health Wales will not release the names of patients and would ask that the privacy of the family concerned is respected."
Dr Walapu said meningitis could affect anyone at any time and it was important to be aware of the symptoms, which can include headache, fever, drowsiness, vomiting, neck stiffness and possibly a red rash that did not fade when pressed with a glass tumbler.
A flag at the college was flying at half mast at the weekend.
More information can be obtained from the Meningitis Research Foundation on 0808 800 3344 or the Meningitis Trust on 0800 028 1828, which both operate 24-hour freephone helplines.