Facebook centenarian Lillian Lowe, from Tenby, Pembrokeshire, dies, 104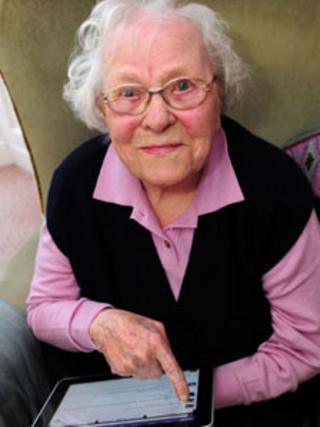 A centenarian who attracted attention around the world after signing up to Facebook has died at the age of 104.
More than 4,500 people linked to Lillian Lowe's page after reports about her use of the social networking site when she was 103.
The retired hotelier and businesswoman from Tenby used a iPad tablet computer to keep in touch with her family.
She would have been 105 later in February, but died in hospital after a short illness.
Mrs Lowe, who was born in 1907, kept a short list of 42 Facebook friends, mostly family.
She had said she would use the site about twice a week, and it helped keep her brain active.
"I love it - it is very exciting," she said in December 2010.
"It's a wonderful way of finding out about things.
"But I must say it's a dreadful waste of time.
"I'm sure there are lots of other things I should be doing rather than playing on a computer."