Funeral for Gypsy Douglas Boswell brings Pembroke to a halt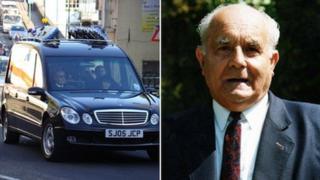 A large funeral cortege to mark the passing of a prominent member of the Gypsy and traveller community has brought Pembroke to a halt.
Douglas Boswell, of Monkton, died at the age of 82 last month.
The main road through the town was shut to allow the precession of more than 20 vehicles to pass through on their way to Westgate Chapel.
Mr Boswell was described as a widely respected resident of Pembroke where he had lived most of his life.
The procession was led by two flat bed vans carrying floral tributes.
Among those lining the route was Shirley Webb.
She said: "I've known Mr Boswell for 50 years and met him most days in town.
"He was true Romany Gypsy and was very well respected and he respected everybody around him.
"I will really miss him and that's why I'm standing here today."
Members of the traveller community came from around the UK to pay their respects.
Mr Boswell leaves 10 children and 37 grandchildren.
Bev Stephens, head of Pembrokeshire's Gypsy traveller education department, said Mr Boswell was well thought of throughout the county.
"He was a very loveable, likeable character who was a family man," she said.
"When he was younger he lived in a bow-top wagon and he would come into school and talk to the children about what life was like then.
"Everybody thinks it was romantic but life was very tough then.
"He lost his wife very young but they are a united family and they get a lot of support from each other."
She said the turnout showed how well respected Mr Boswell was.
"I'm sure his family will take a lot of comfort from that," added Mrs Stephens.