Swansea Dolphin Hotel occupiers served with eviction notice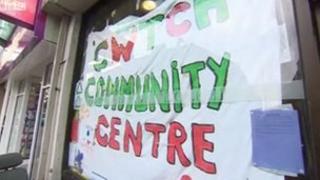 People occupying a 66-bedroom vacant hotel in Swansea say they have been served with an eviction notice.
The campaigners who gained access to the Dolphin Hotel in the city centre a week ago say they intend to challenge the order in court.
They say they have spoken to the landlord to ask if they can stay until the hotel is redeveloped.
The group want to turn it in a community centre and last week opened a cafe in the main lobby.
They are calling the hotel the Cwtch Community Centre and insist they gained access legally via an unlocked window.
The hotel had been empty for about two years.
South Wales Police and Swansea council have both said they are monitoring the situation.
A spokesperson for the group told BBC Wales they believed the eviction notice was flawed.