Twin Radio Supply's Frank Firth still fixing in Gorseinon after 75 years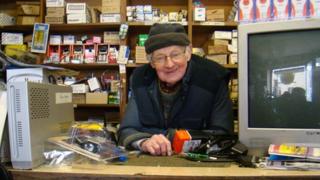 When Frank Firth first opened his electrical repair shop in 1937, George VI had just become King and Neville Chamberlain Prime Minister.
Children were enjoying the first instalment of The Dandy, and all the emergency services could now be reached on the same new telephone number - 999.
Fast forward 75 years, and Frank says that while people now prefer to throw things away rather than have them repaired, he still has no intention of closing the doors of Twin Radio Supply.
Frank, now 93, opened the store in Gorseinon, Swansea, with his twin brother at the age of 18.
But despite his neighbours saying that he has become part of the Gorseinon fabric, Frank struggles to see what all the fuss is about.
"I don't know why you'd want to talk to me - I just fix things," he said.
"Me and my brother started off with radios and bikes before the war, then of course tellies started to come in, and over time we turned our hand to anything... videos, heaters, kettles, hairdryers … I can't always fix them, but I'll take a look at it for you, and see what I can do."
Duty calls
During the war Frank's electrical know-how was pressed into service with the Army, repairing communications systems wherever the fighting was.
"The thing was with the Army equipment, it worked lovely in the base in peacetime, but it was full of glass valves," he said.
"It was never meant to be shipped all over the world, and bumped on the back of lorries, and have bombs dropped on it.
"Spare parts were so hard to come by as well. We had to improvise with bits of wire and magnets, whatever was lying around really.
"I think that's probably how it was quite easy for me to turn my hand to most things when I came home."
"But the pressure was terrible. If you couldn't fix people's radios at home, then they might miss [comedy programme] It's That Man Again.
"Stuff it up in the army, and people could die if their radios didn't work properly."
TV times
Back home Frank's brother had been keeping the shop ticking over but, not long after his return, a new invention would change the way they worked for ever.
"From the mid-'50s I suppose, we started having tellies brought in to us - well, the first valve sets weren't that different from the radios really.
"Probably the best time for us was the '70s. The first colour sets were so unreliable, that sometimes we'd have three or four in here at the same time; what with the colour transistors and the tubes and that."
Despite his ingenuity, Frank confessed that modern technology had finally begun to beat him.
"Nowadays I wouldn't have a clue where to start with these flat screen ones, not that it matters, because these days people just throw stuff out if it breaks down.
"But you can't blame them - things aren't made to be repaired any more."
Local hero
Even though Frank might not be doing the same amount of business, neighbour Howard Jones says Gorseinon wouldn't be the same place without him.
"He's part of the fabric of the community, one of those rare people these days who everyone knows," said Mr Jones.
"People take all sorts into him, and it doesn't matter if he spends two days tinkering with it - if he can't repair it then he won't take a penny off them.
"I quite often just pop in the shop for a chat. It fascinates me how he's got all these batteries and bits in boxes all over the place, but he knows exactly where everything is in there."
But Frank is quick to scoff at the idea that he is anything special.
"I just do my thing, the same as I always have; the shop's hardly changed in 75 years.
"But now people make a fuss just because I've been doing it for a long time. People come back because they know I won't give them any nonsense, that's all."
"There's not much business anymore - I sell a few electronic bits, but it's more fixing bikes than anything else these days; cycling seems quite popular again now.
"But why would I want to retire? I'm 93, for goodness sake - what on earth would I do now, if I wasn't running this place?"