Swansea beach motor sport race delay 'until September'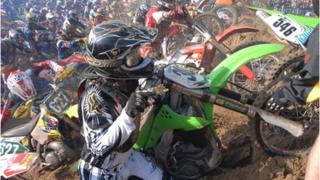 A beach motor sports event in Swansea next month has been postponed after organisers did not apply for an environmental licence in time.
RHL Activities planned to hold three days of races for motocross and quad bikes on the seafront from 2-4 March.
The event is being rescheduled for September to obtain a consent to operate machinery below the tide line.
Swansea council's cabinet has agreed to a one-year trial but there are concerns about the noise and the environment.
Organisers plan to move thousands of tonnes of sand to create a circular course about three miles long including up to 40 dunes, drops and jumps of various sizes.
Similar beach racing events at Weston-super-Mare, Somerset, attract 80,000 people.
Director Gareth Hockey said: "We found out last week that we needed a marine consent licence. It needed a 28-day statutory notice, so we had to delay it.
"It's bad news in some respects as we're having to delay the event when it's two weeks away.
"But we believe it's the last in the fight by certain people to try and stop the event."
RHL Activities has run the Weston Beach Race at Weston-super-Mare for more than 10 years.
Council officers visited the Weston event in October and said it was well run.
The proposal for Swansea involved closing more than a mile of the promenade from the Marriott Hotel to Brynmill Lane to non-paying public.
Mr Hockey said they were hoping to attract around 600 riders for the event but are now aiming for 1,000 in September.
He added: "I am determined to go ahead - the impact [on the beach] is not as bad as everyone thinks."
A Swansea Council spokesperson said: "While we're disappointed that the Welsh Beach Race has been delayed, we're looking forward to working with the organiser to stage the event in Swansea in future."