Home treadmill burns risk warning from Swansea and Birmingham surgeons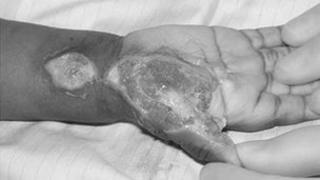 Plastic surgeons are warning parents of the risk of children being injured in accidents with home treadmills.
The Welsh Centre for Burns and Plastic Surgery said an increasing number of children were suffering deep friction burns from motorised belts.
The centre at Morriston Hospital, Swansea, logged 20 such injuries between January 2006 and December 2010.
Surgeons urged parents, manufacturers and regulatory authorities to help curb a "growing problem".
Plastic surgeons and a burns nurse from the Swansea-based centre have compiled a joint research paper on the issue with a colleague at the Birmingham Children's Hospital.
They looked at 29 treadmill-related injuries to children between 2003 and 2009.
More than half needed skin grafts, and over two-thirds had deep burns. The children, made up of 15 boys and 14 girls, were aged between one and 13.
The research revealed that 16 of the 29 cases studied had trapped their hands or forearm under the belt of the treadmill when an adult was using it.
The others were injured after touching a recently used machine or playing on a treadmill themselves.
The majority of injuries were to the hands or arm, but one toddler sustained a burn to the nape of the neck.
Almost half the children sustained full thickness burns and 17 needed skin grafts.
The report's authors said: "We believe parents, manufacturers and regulatory authorities must take important steps to prevent this emerging health problem."
Surgery
The Welsh Centre for Burns and Plastic Surgery said more recent figures showed that between January 2006 and December 2010, there were 20 cases - all children.
Six were admitted to hospital straight away, and 14 attended as outpatients. However, six of the 14 were later admitted for planned surgery.
"This is a growing problem because of the popularity of home gyms and people buying treadmills to use at home instead of going to the gym," said Sarah Hemington-Gorse, a plastic surgeon at the centre.
"I don't think that people fully appreciate how severe the injuries can be as the burns are only small. The problem is that the majority of the burns are deep and are on the fingers or hands.
"The belts are motorised so they keep on turning, and can cause deep burns."
Ms Hemington-Gorse said the burns were often to the palms or finger, and sometimes needed skin grafts.
'No guards'
"This is a growing problem, and our latest case was a boy who fell on a treadmill just last week and suffered friction burns as a result," she said.
Ms Hemington-Gorse said the issue with home treadmills was that many had no guards around the working parts.
The research project, Paediatric injuries due to home treadmill use: an emerging problem, has been published by the Royal College of Surgeons.
It was co-authored by Ms Hemington-Gorse, Tom Potokar, Prakash Lohana, Claire Thomas and Yvonne Wilson.
David Stalker, chief executive officer for the Fitness Industry Association, said the research highlighted the need to be "health and safety savvy" with specialised fitness equipment.
"All equipment should be purchased from a reputable supplier and careful consideration should be taken to ensure the appropriate safety features are in place," he said.
"Home gym equipment should be routinely checked according to manufacturers' guidelines, to avoid accidents."
Mr Stalker said the FIA's supplier members could help consumers purchase the right equipment for their activity needs.