Whale stranded on Milford Haven mudbank is put to sleep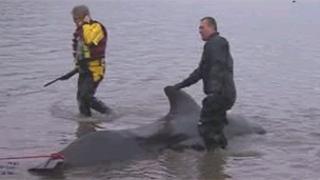 Marine experts say a whale stranded on a beach in Pembrokeshire has been put to sleep because it was dying.
The creature - thought to be a pilot whale - was seen entering the Milford Haven waterway on Wednesday and beached itself several miles up the estuary.
Local people waded in to refloat the mammal but it was later found grounded near Llanstadwell, Milford Haven.
Experts who assessed the whale said they put the creature to sleep as there was no hope of saving it.
The whale is approx 4m (13ft) in length and was stranded on a mudbank.
Swimming upstream
Early reports suggested it was a minke whale but wildlife experts now believe it is a smaller pilot whale.
Cliff Benson, of the Sea Trust charity, said: "The whale was reported to us by staff at the LNG oil refinery who spotted it swimming upstream.
"If it was a minke whale it would weigh up to 15 tonnes and would be very difficult to refloat.
"My guess is that it is a pilot whale - but even then it could be a very big animal."
Mid and West Wales Fire Service said it was attending the incident with a specialist team from Milford Haven assisting with mud mats.
Station manager David Hancock told BBC Wales: "It has been swimming, albeit lethargically, in the shallows offshore."
He added that there was nothing preventing the whale from returning to the sea, suggesting that it may have swum to the shore because it was ill and needed to recover.
Rod Penrose, whale strandings co-ordinator for Wales, later told BBC Wales that they had established that the whale was dying and could not be rescued.
He said they took the decision to put the animal to sleep and would carry out a post mortem examination on Friday.