Abandoned puppies found at Carmel Chapel, Port Talbot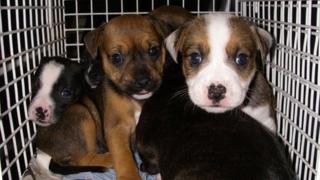 Six puppies have been found abandoned at a Port Talbot chapel.
The boxer-type pups were found in a black holdall by a dance class at Carmel Chapel on Tuesday, 28 February.
The RSPCA said although the animals were healthy and left where they could be discovered, it was "not by any means the right thing to do".
The animal charity is appealing for anyone with information to call them confidentially on 0300 1234999.
RSPCA inspector Nic de Celis said: "If you know you are not going to be able to care for your dog's puppies or find them responsible and caring homes, then think about having your bitch neutered to prevent this.
"There is never any excuse for abandoning an animal.
"If you really feel that you can no longer look after a pet, you can seek advice from an animal welfare organisation."