IPCC rejects Briton Ferry father and son's Taser complaints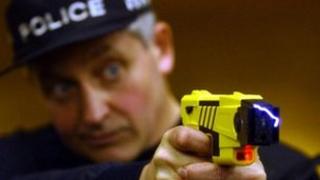 Complaints by a father and son hit by Taser stun guns have been rejected by the Independent Police Complaints Commission (IPCC).
Jeffrey Evans and his son Geoffrey, both from Briton Ferry, were Tasered during an arrest at home in 2009.
Police were alerted after a taxi driver reported two men had racially abused and physically threatened him.
The IPCC found "the officers acted properly and used reasonable force to arrest" the men.
Both men were Tasered, and the older man later claimed the barb from the weapon became embedded in his head, leading to him needing stitches.
However, the IPCC said "evidence indicates that he sustained his injuries as a result of a Taser-induced fall onto a hard surface and the officers gave appropriate medical assistance as soon as he was subdued".
It added: "The investigation also found that Geoffrey Evans was posing a threat to police officers and that he was Tasered to prevent him causing injury and to enable him to be arrested."
Jeffrey Evans later pleaded guilty at court to racially aggravated criminal damage.
His son admitted obstructing the police and racially aggravated public order offences.
Tom Davies, IPCC Commissioner for Wales, said: "A member of the public had called the police because he had been physically and racially threatened by two men with weapons.
"The public expect police officers to respond to dangerous situations such as this and offer protection to those being assaulted.
"The police officers who responded that night were faced with two violent men who posed a threat to their safety.
"I am sure the public will agree with me that police officers must take appropriate measures to protect themselves and the public from harm."