Guns seized from oil tanker docked at Milford Haven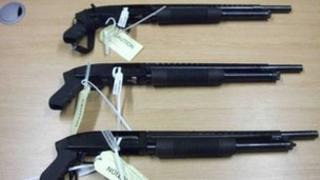 Three shotguns and ammunition have been seized from the crew of an an oil tanker which docked in Milford Haven.
Officers from the Border Force boarded the Panamanian-registered ship for a routine search.
Members of the Chinese and South Korean crew told them the weapons were being carried as self-defence against pirates in the Indian Ocean.
But the Border Force is warning all ships entering UK waters they must declare any firearms on board.
The weapons were seized as the crew had failed to do so and because they had not been stored properly.
Alex Lawther, assistant director for Border Force in Wales, said: "Even if crews are carrying firearms for legitimate reasons, they must declare them to our officers when they arrive in UK waters and they must store them properly on board ship.
"As well as seizing drugs and illegally-smuggled weapons, our officers also make sure ships' crews are complying with regulations around transporting firearms and other dangerous items."