Angelika Dries-Jenkins murder case: John Mason wedding plans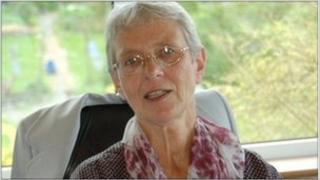 A jury has heard about the wedding plans of a man accused of murdering a Pembrokeshire woman for money.
The prosecution says John Mason needed cash to pay for his wedding, and beat Angelika Dries-Jenkins, 66, to death at her Narberth home on 1 June last year.
Mr Mason, 55, and his fiancee booked and paid for the wedding a week before Ms Dries-Jenkins was killed, Swansea Crown Court heard.
Mr Mason denies murder and the case continues.
The jury was told that Mr Mason and fiancee Denise Evans attended an appointment at Haverfordwest Register Office on 25 May.
They paid £110.50 in cash for the marriage, which they booked for the first available date.
Having initially stated on the form there would be 11 guests, they later changed it to 14, and finally 30.
But in a statement read out in court, superintendent registrar Barbara Eynon said the couple did not show up on their wedding day and she was unable to get hold of them.
It was only later she discovered that Mr Mason had been charged with murder that day.
The court also heard that the day before Ms Dries-Jenkins is alleged to have been murdered by Mr Mason, the couple spoke to Emrys Murrow from the Nant-y-Ffin Hotel in Llandissilio about booking a room for their wedding reception.
Mr Murrow did not hear from them again.
The court had previously been told that Ms Dries-Jenkins was savagely beaten to death with a blunt instrument by Mr Mason because he needed the money to pay for the wedding.
He is said to have withdrawn £1,000 from her bank accounts.
It is alleged he caught a bus from his house in nearby Llandissilio to Narberth and then walked to her home where he "conned" his way in.
Mr Mason, whose mother lived next door to Ms Dries-Jenkins, would have been familiar to his alleged victim, the jury has heard.
The court was told he tortured her to get her to reveal the Pin number for her bank card.
He then stole her handbag and her Skoda Fabia car, leaving her dead or dying, it is claimed.
Ms Dries-Jenkins lay dead in her home for two days before her body was found by her daughter Eleanor on 3 June.
She had travelled to Narberth from her home in Oxfordshire to surprise her mother for her 67th birthday which would have been on 5 June.