Journalist Gareth Montgomery-Johnson's sister Mel Gribble joy at his release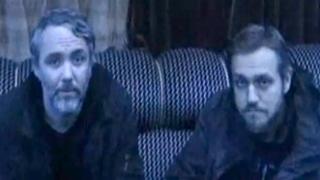 The sister of a Welsh journalist freed from Libya after being detained last month has spoken of her relief.
Mel Gribble told BBC Wales she will pick up her brother, Gareth Montgomery-Johnson, from Carmarthen, from an airport on Monday.
Mr Montgomery-Johnson and Nicholas Davies-Jones, of Berkshire, werefreed after apologising for their actions.
Mrs Gribble finally spoke on the phone to her brother on Sunday night and said: "What a way to end Mother's Day."
Mrs Gribble said she was "absolutely exhausted" and "relieved" after speaking to her brother.
"We exchanged only a few words on the phone, really, it's not because we didn't have the opportunity, I think it's just a case of, right we know you're ok, give me a ring when you need picking up from London," she said.
"They're hoping to catch a flight at some point today and I've just asked for the phone call beforehand so I've got time to get down there and pick him up.
"They've been on such a long, arduous journey, as we have, and the end goal is just to get him home."
Mr Montgomery-Johnson and Mr Davies-Jones were detained by the Misrata Brigade militia in Tripoli on 22 February.
They were handed over to the interior ministry in Tripoli on Wednesday.
They had been working for the Iranian broadcaster Press TV, and were accused of entering the country illegally.
Both have now apologised for their actions.
Mr Gribble said a friend alerted to her brother's detention via a news report on Facebook.
She said Human Rights Watch had been "pivotal" in keeping her informed during the process.
"We've made contact with other journalists out on the ground in Tripoli and the support from other journalists has been overwhelming," she said.
'Silly situation'
The men were eventually handed over to the Libyan authorities on 14 March.
Since then, Mrs Gribble said the family had been in "this silly situation" of waiting to hear news of both men returning home.
"We knew he had gone to the Ministry of the Interior, we were advised that, legally, they would probably be detained for 48 hours but that very quickly disappeared and still we heard nothing," she said.
"So this last few days have been quite trying with the lack of information so the worry starts seeping in again.
"Yesterday, of course, was Mother's Day, so we were trying to acknowledge that in some shape of form, but desperately hoping we would hear the good news, and we did."