Angelika Dries-Jenkins murder: John Mason claims 'coincidence' over whereabouts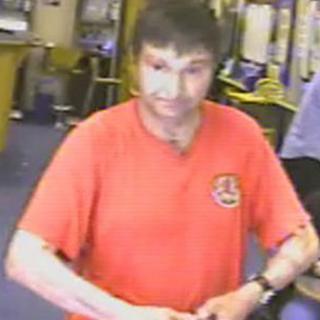 A man accused of murdering a pensioner has claimed it was "pure coincidence" he was in a town at the time the killer took cash from her bank account there.
John Mason, from Llandissilio, denies battering Angelika Dries-Jenkins to death at her home in Narberth, Pembrokeshire last June.
He told Swansea crown court it was also "just chance" he was in Haverfordwest while the killer was getting rid of a blood-stained jumper.
The case was adjourned until Wednesday.
Mr Mason was being cross-examined on Tuesday by the prosecution.
CCTV footage
Patrick Harrington QC reminded him that a forensic scientist had found DNA on the jumper and that there was only a one in a billion chance it had not come from the victim.
The jumper was found in a rubbish bin at the Castle Lake car park in Haverfordwest.
Mr Harrington said the defendant had been filmed by a CCTV camera outside the Eagle pub in Narberth on 1 June wearing the jumper, while cameras in Haverfordwest later showed him wearing different clothing.
Mr Mason denied owning the jumper found in the bin, but said he owned a similar jumper which he believed was at his house.
Ms Dries-Jenkins's Skoda car was also found in Haverfordwest and Mr Mason's DNA was found on the ignition keys.
He told the jury he had handled the keys during a conversation with Ms Dries-Jenkins about two weeks before her death.
Mr Mason agreed he was in Haverfordwest at the time that the killer had taken money from her bank account via a cash machine on four occasions.
He said he had taken a bus from Llandissilio and agreed that the withdrawals had been made "within minutes" of his arrival in the town.
"It was pure coincidence. I did not do it," he said.
The prosecution has claimed Ms Dries-Jenkins was tortured for her bank details and then beaten to death by Mr Mason, who it is alleged needed money to pay for his wedding.
Mr Harrington accused Mr Mason of not being man enough to own up to what he had done.
"You conned your way into that house and battered that poor woman to death. You are not prepared to accept that you are the killer," said the prosecutor.
Mr Mason said it was untrue.
The trial has been adjourned until Wednesday.