Angelika Dries-Jenkins murder: Judge begins summing up in trial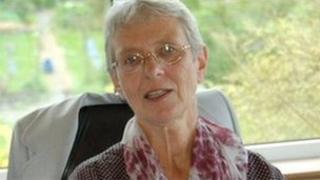 A judge has begun summing up in the trial of a man accused of murdering a Pembrokeshire woman in her home.
John Mason, from Llandissilio, denies battering Ms Dries-Jenkins to death at her home in Narberth last June.
The prosecution told the jury that DNA evidence linked Mr Mason to the scene.
His defence said it was not proven that Ms Dries Jenkins was killed to pay for the wedding of John Mason and Denise Evans as had previously been claimed in court.
During his closing speech at Swansea Crown Court, prosecutor, Patrick Harrington QC said there had been "utterly compelling evidence" against Mr Mason.
He said the single most important piece of evidence was a jumper, dumped in a bin in a Haverfordwest car park with traces of DNA matching those of Mr Mason and Ms Dries-Jenkins with a match probability of a one in a billion.
"The jumper was worn by the killer, and the killer was John Mason."
He pointed to cash withdrawals from Ms Dries-Jenkins account that seemed to coincide with expenditure by Mr Mason on taxis and fishing tackle.
"These are not coincidences... this is the killer going back to rob money from his victim and the killer is this man," he told the jury.
Defence barrister, Chris Clee QC said the prosecution had not proven that Ms Dries Jenkins was killed to pay Mr Mason's planned wedding.
According to Mr Clee, it was clear the wedding "was not going to be the social event of last summer... it was not going to make the pages of Hello magazine... in reality it wasn't going to be anything more than a couple of people turning up and having a few drinks."
Mr Clee questioned whether Mr Mason would walk through the middle of Narberth on a summer morning before murdering Ms Dries-Jenkins on the outskirts of the town.
He suggested that there were fingerprints of an unknown origin in the home of Ms Dries-Jenkins and that DNA evidence was "not infallible".
Beginning his summing up of the evidence, Judge Justice Wyn Williams told the jury that it was for "you and you alone to reach conclusions".
John Mason denies murder and the case continues.