New Burry Port RNLI lifeboat Diane Hilary bought by supporter David Cole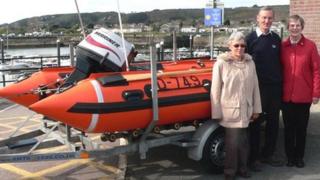 An RNLI supporter has paid for a new lifeboat after deciding he wanted the service to benefit while he is alive, instead of from his will.
David Cole, of Walsall, West Midlands, named the boat at Burry Port in Carmarthenshire in honour of his sister Hilary and best friend, Diane Shirley.
A service of dedication was held on Saturday at the Burry Port RNLI station for the Diane Hilary.
It is a 5m D-class inflatable designed to respond to emergencies rapidly.
Hugh Owen, from Burry Port RNLI, said: "The rain didn't dampen our spirits.
"David was very emotional to see his boat being launched for the first time.
"And it is an emotional thing to see your boat launched that is going to save lives.
"David was extremely generous."
Before the launch, Mr Cole, 63, said: "I'm a member of the RNLI in the Walsall branch and you're always asked if you can leave something in your will to the RNLI, so I thought I would do that.
"But then I thought because I had the money to hand, why not do it now rather than once I'm gone.
"This way I can enjoy the boat."
The Diane Hilary had champagne pour over her bows and was blessed by local ministers.
The service was led by the Reverend Michael Wheatley.