Carmarthenshire Council dispute with refuse workers over shift finishes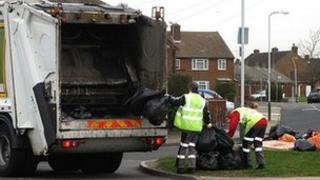 Council bosses in dispute with refuse workers in Carmarthenshire have apologised for a rubbish backlog.
Refuse workers have been told they can no longer finish shifts after making their final collection as the council says it is "unfair" on other employees.
Since the decision, residents have complained of some uncollected refuse.
The council says it hopes the service will return to normal next week. The GMB union representing the refuse workers was not available for comment.
New pay conditions were introduced by the council on 1 April but they did not affect refuse workers.
The council did however abolish "job and finish", meaning workers could not go home as soon as their collection rounds were finished.
'Patience'
The new rules have not prompted an official strike, but collections have not been fully carried out since the changes, causing a build up of rubbish in some households and worries over ripped bags and vermin.
The council has stressed "job and finish" will not be re-introduced.
Richard Workman, director of technical services at Carmarthenshire Council said: "We cannot make special arrangements for refuse collectors, as this would be unfair on all the other staff who work their full contracted hours each week.
"Whilst we hope to resolve this matter soon through ongoing consultation, we will not leave the situation to continue as it is and will consider all means to ensure continuity of service.
"Again we appreciate residents' patience and co-operation through this period and apologise to those that have been affected. We hope to return more or less to normality sometime next week."
The BBC has tried to contact the GMB but no one was available to comment.