European Commission serve notice over Milford Haven LNG safety concern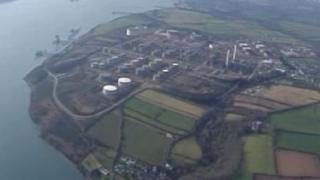 The European Commission has issued a formal notice over failure to comply with safety rules at Liquefied Natural Gas (LNG) terminals in Pembrokeshire.
It concerns assessments of risks from tankers approaching and berthing at Milford Haven.
The Environmental Impact Assessment Directive requires risks to be assessed and findings made public.
South Hook LNG said authorities were dealing with the matter and it would assist if appropriate.
Dragon LNG has also been asked to comment.
BBC Wales has also asked the government agencies involved to comment over the notice, made to Britain.
Mark Andrews, corporate affairs director at Milford Haven Port Authority, said: "In preparation for the arrival of LNG, Milford Haven Port Authority has, over a number of years, commissioned and produced extensive risk assessments in full compliance with all UK safety standards. Consequently, LNG vessels are regularly and safely handled at the port.
"Milford Haven Port Authority continues to work with UK authorities in their dealings with the European Commission on how these matters are communicated."
The notice is a preliminary step which could lead to action in the European Court if a member state does not comply.
"The failure in question concerns the assessment of potential risks from LNG tankers approaching and berthing at Milford Haven," said Joe Hennon from the commission.
In February, Plaid MEP Jill Evans said she and residents petitioned the European Parliament , highlighting their concerns.
"The European Commission is clearly losing patience with the UK government's failure to produce information about important safety aspects at Milford Haven," she said.
'Major step forward'
The Department of Energy and Climate Change (DECC) and the Health and Safety Executive (HSE) say the issue is not their responsibility.
The Maritime and Coastguard Agency (MCA) has been asked to comment.
Companies South Hook LNG and Dragon LNG operate from different terminals, a few miles apart.
A South Hook LNG spokesperson said: "We understand that the relevant authorities are dealing with this matter and we will assist if appropriate to do so."
Dragon LNG has also been asked to comment.
Meanwhile, campaigners have welcomed the news.
Gordon Main, spokesman for local campaign group Safe Haven, said: "Today's news from the European Commission marks a major step forward for Safe Haven's nine-year campaign for LNG marine safety to be addressed in Milford Haven.
"For 10 long years people living in the shadow of these developments have been asking, day after day, year after year, for shipping safety information to be made public.
"At last it looks as though they will get their way."
A Welsh government spokesperson said: "As the case involves two local planning authorities in Wales we will assist the UK government in responding to the concerns raised."