Paralympic shot for boccia star Jacob Thomas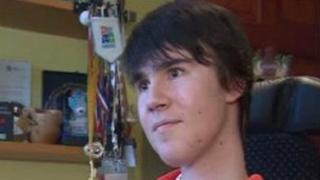 A 17-year-old boccia player from Pembrokeshire has been selected for the Paralympics in London 2012.
Jacob Thomas is the Wales and GB champion in his category and is the youngest member of the nine-person squad.
He has played the target ball sport for seven years and is a member of Disability Sport Wales' elite academy.
Jacob told BBC Wales: "It means the world. It's been my dream to compete in the Paralympics. I'm really happy."
In the 2008 Beijing Paralympics, Great Britain's Boccia team won gold.
According to the GB Boccia Federation website: "Boccia is a Paralympic sport for athletes with disabilities that have a major impact on motor skills. Boccia is a target ball sport belonging to the same family as petanque and bowls."
And the student from Bethesda, near Narberth, said there had been "a lot of hard work and dedication and training and travelling to different places" in the run-up to his selection.
With the assistance of his father Michael, Jacob uses a ramp and a head pointer to roll the boccia balls onto the court.
He explained: "Boccia is a sport similar to bowls. You have a white jack and the aim is to get as close as possible to that and try and score as many points.
"My dad helps move the ramp for me and I tell him what direction I want the ramp to go and where to put the ball on the ramp.
"I just feel over the moon really and just can't wait for what's ahead.
"There's a lot of hard work and training and going to different competitions before London but hopefully it will be worth it in the end if I can get that gold medal."
Michael Thomas said of his role in the competition: "I'm a form of aid for Jacob. I play with him on court and I do the movements that Jacob because of his disability can't do.
"I move the ramp up, left and right while he aims then move it back down and then he tells me what part of the equipment to put on and what ball to use.
"I adjust his head pointer to where he tells me. I can't do anything until he tells me. He takes the shots and I'm not allowed to look on court so basically I'm a robot for him."
Focus and concentration
Mr Thomas said Jacob's selection was fantastic, adding: "I can't put into words how proud I am.
"He's been playing seven years from being a thrower to moving across to being a ramper. It's his life.
"He's put so much work into it. Nobody would believe how much time and effort he puts in and he's constantly thinking about what he can do to improve."
Mr Thomas believes the sport has helped his son's focus and concentration and has brought social benefits.
"It makes him concentrate on what he eats, his hydration, everything about it. He goes for physiotherapy. It's just fantastic that they can compete at this level."
Jacob gets funding from Boccia Wales and now the GB squad which helps cover travel and accommodation costs when he competes.