Milford Haven: WWII mine in waterway blown up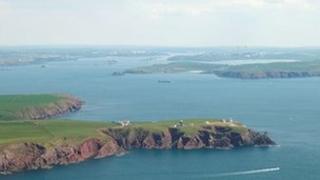 Bomb disposal experts have carried out a controlled explosion on a German World War II mine found by a diver near Milford Haven port in Pembrokeshire.
The device was discovered on the bed of Milford Haven waterway just off Watwick Point, near Dale, at the weekend.
The controlled explosion took place late on Tuesday afternoon.
Milford Haven Port Authority worked with the coastguard, police and a Royal Navy bomb disposal team.
Two port authority patrol boats and two police patrol boats were sent to the area to ensure people remained safe during the detonation.
The authority also issued a navigational warning for all sailors.
Earlier, it said three ships were due to sail out of Milford Haven before the controlled explosion.
The authority said it understood the coastal path around Watwick Point was closed temporarily while the mine was disposed of.