Falklands Welsh Guard Kevin Keoghane's family get honour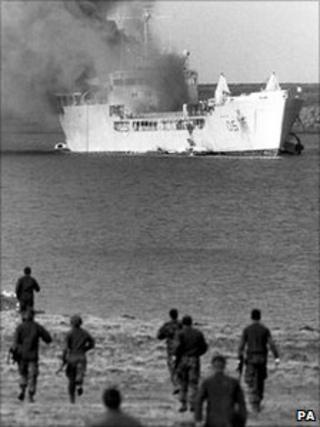 The widow and son of a Welsh Guard killed during the bombing of a troop ship during the Falklands War are being honoured with the Elizabeth Cross.
L/Sgt Kevin Keoghane, 30, was reported missing presumed dead after Argentine jets hit the Sir Galahad in June 1982.
The presentation was taking place at a musical event at The Barracks, Brecon, Powys, on Thursday evening.
It followed a 30th anniversary Falklands commemorative service which took place in Swansea.
L/Sgt Keoghane was one of 48 members of the British armed forces, 32 of them Welsh Guards, who died when the Sir Galahad was struck in 8 June.
Jets attacked the Sir Galahad, which was in Bluff Cove, just six days before the Argentine surrender.
The attack accounted for almost one fifth of all British fatalities, many of them Welsh Guardsmen preparing to go ashore and join the land war.
Many others were injured, including Simon Weston, who became a spokesman for those who fought to recapture the islands from Argentina.
L/Sgt Keoghane's widow, Jane, was being presented with the Elizabeth Cross in a ceremony in the officers' mess at the army's headquarters in Wales.
Beating the retreat
His son, Phillip, 29, who was born two months after his father was killed, was being given a framed memorial scroll.
The Elizabeth Cross and memorial scroll was introduced in 2009 and is available to the relatives those killed in conflicts since the end of World War II.
The presentations were taking place before the annual beating the retreat ceremony, which includes a parade by the Royal Welsh regimental band as well as a Ghurka piper and young Ghurka dancers in traditional Nepalese dress.
Earlier in the day, a service of commemoration was held for the South Atlantic Medal Association (Sama) Wales, at St Mary's Church, Swansea.
Sama represents all service personnel who took park in the conflict as well as the families of those who died.
The service saw the launch of the fundraising song Believe.
It is sung by Falklands veteran and former Welsh Guardsman Will Kevans, with proceeds going to Sama Wales and the Welsh Guards Afghanistan appeal.
The events in Brecon and Swansea came on the day the Welsh assembly's deputy presiding officer, David Melding AM, laid a wreath at Bluff Cove to mark 30th anniversary of the war.
When he landed in the Falklands on 11 June, Mr Melding also laid a wreath at the Welsh Guards Memorial at Fitzroy, overlooking Bluff Cove.