Pembrokeshire abuse row: 'Time out' rooms can reopen after inspections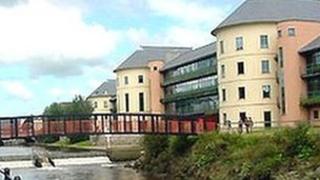 All but one of the controversial "time out" rooms at some Pembrokeshire schools can reopen after inspections.
Members of a board, set up in the wake of two damning reports into child protection procedures at Pembrokeshire Council, voted for the go-ahead on Thursday evening.
But they want new guidance on when the padded rooms are used.
The Welsh government has issued the council with a final warning on safeguarding children.
Ministers have claimed the local authority did not do enough to improve matters after they appointed a panel of experts to oversee the council's procedures last September.
It followed warnings from school and social services inspectors.
The matter has also been raised with Dyfed-Powys Police, including new information passed to officers on Wednesday by council officials.
Among allegations raised were children being locked in rooms and of one child's hands being tied.
The rooms are often referred to as "sensory rooms," where children can go to calm down.
Padded walls
But in 2009 a complaint was made about children being locked in a room - as a means of restraint - at the Neyland Pupil Referral Unit (PRU), which is for children with special educational needs and behaviour problems.
This room had padded walls and floors and no natural light or ventilation.
Ministers expressed grave concerns that no disciplinary investigation was ever carried out by the council into the complaints made about that particular sensory room.
The council initially said it was a one-off and there were no other similar rooms in the county.
But ministers claim they have since learned that there are other similar rooms in Pembrokeshire. Some of those are either padded, windowless or lockable.
Since last month, an internal audit team from the council has been carrying out inspections of the county's 68 schools.
Of those, 18 schools were identified as having 'time out' rooms or time out areas, which were closed off to pupils until more detailed inspections had been carried out.
The result was a report from Pembrokeshire's director of social services, John Skone.
He recommended only one "time out" room, at Fenton Primary School, Haverfordwest, out of the 17 he had inspected so far should remain closed.
Mr Skone presented his conclusions to members of Pembrokeshire's Safeguarding Accountability and Improvement Board.
He said there was a good understanding of safeguarding issues by the county's head teachers. He also said almost all of the rooms or areas inspected were found to be open, pleasant and appropriate spaces with no safeguarding issues.
Mr Skone found no locked rooms.
Urgent issues
Following a lengthy debate, the board voted in favour of reopening all but one of them to pupils again.
They wanted to arrange another visit to Fenton School.
It remains unclear which "other rooms" the Welsh government was referring to when they raised their concerns.
The audit team did exclude three schools from its own inspection, including the Neyland PRU.
The board, which was set up to deal with urgent issues following the publication of the two damning reports, also agreed it should be disbanded and its work passed over to a new safeguarding overview and scrutiny committee.
This has been welcomed by the ministerial board, a body set up by the Welsh government to help Pembrokeshire council move forward.
New guidelines must now be put in place and, by 22 June, the council leader Jamie Adams must formally respond to the Welsh government and its ongoing "grave concerns".
Mr Adams pledged to "get to the bottom" of child protection failings in the county.
Meanwhile, one of the pupils at the centre of the Pembrokeshire child protection row spoke to BBC Wales about the time he was locked in a padded room.
Aeddan Parry, 16, says he was locked in a "time out" room, sometimes for a whole day, at Neyland's pupil referral unit in 2009.
He was sent there after being diagnosed with the condition Semantic-Pragmatic disorder, which is linked to mild autistic spectrum issues.
It meant he had a tendency to lash out violently.
A council spokesperson said: "We the county council have never heard any suggestion or complaint that anyone has been locked in a room for the whole school day."