Major upgrade at Dylan Thomas park in Swansea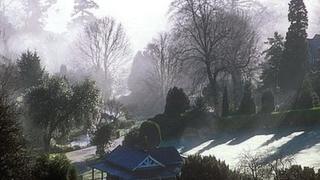 Restoration work has started in Swansea on the childhood park of Dylan Thomas in readiness for the 100th anniversary of the Welsh poet's birth in 2014.
Cwmdonkin Park, which featured in his poem The Hunchback in the Park, opened in 1874.
The £1.4m project will include a central seating area with engravings of his work.
The park, considered a source of inspiration for Thomas, is close to Cwmdonkin Drive where he grew up.
The work, which includes a make over of the Dylan Thomas shelter and the upgrade of the park pavilion, is expected to be finished by the end of the year.
The scheme has received money from the Heritage Lottery Fund and a sustainable tourism grant. Swansea council and the Friends of Cwmdonkin Park are also contributing to the scheme.
Nick Bradley, who is responsible for regeneration on the council, said: "Nobody has done more to put Swansea on the map than Dylan Thomas.
"His work and legacy is known in all corners of the world and this is why it's important we celebrate his links with the city, especially at a time when the 100th anniversary of his birth is fast-approaching."
Mr Bradley said the council already had a permanent exhibition devoted to Thomas's life and work, a varied literature programme and an annual festival at the Dylan Thomas Centre, but the refurbishment of Cwmdonkin Park would help further mark his Swansea connections.
New park furniture will also be introduced under the scheme and entrances, footpaths and toilets will be upgraded.
Improved signage will be put in place, water features will be added and more dog waste bins will be made available.
The project follows consultation with the local community and volunteers from the Friends of Cwmdonkin Park and the Dylan Thomas Society.
Swansea West AM Julie James said: "Investment in Dylan's childhood playground is well over due and I am delighted that Culture Minister Huw Lewis has recently committed £750,000 for the centenary celebrations in 2014."
The park is near Thomas's birthplace of 5 Cwmdonkin Drive, in the Uplands area of Swansea.