Swansea's Castle Square help point stops 91 amulance calls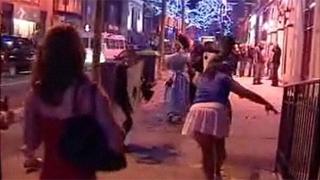 A help point for revellers in Swansea has helped prevent ambulances being called out on 91 occasions for non-emergencies, says a community safety group.
The Healthy City help point in the city centre has been used 27 times since its launch in November last year.
It operates with police and ambulance service on busy nights, including at Christmas, rugby and football matches.
Almost 400 people have needed assistance, mostly due to drunkeness.
Fiona Hughes from Safer Swansea Partnership said: "What we've tried to do is emphasise responsibility.
"We are focused on the busiest times when we know there is more need for it.
'Public confidence'
"We want people to come to Swansea, enjoy a drink but remember they are responsible for themselves."
The help point in Castle Square has also contacted 31 parents or friends to collect relatives and assisted with clamping down on the no drinking zone in the square, confiscating bottles containing alcohol from drinkers.
Two people have also been fined for urinating in public.
"The presence of the help point has contributed positively to public confidence in safety and has had an enormous effect on reducing anti-social behaviour and the number of admissions to A&E via emergency ambulances," Ms Hughes added.
"By following our advice - with the most important being to pace your alcohol consumption - people can ensure they make their night out one to remember for all the right reasons."
Ambulance officer in the Swansea area, Paul Hibbard, said: "The Swansea Safer Partnership is one of a number of community partnerships we have across Wales set up to provide safe and enjoyable environments in towns and cities across the country.
"The help point is an extremely valuable resource as we are able to provide medical assistance for people with more minor injuries and those who may have had a little too much to drink.
"This helps to keep our ambulances available in the area to respond to life-threatening emergencies and reduce the number of people having to go into hospital."