New £9.5m Mumbles lifeboat station plan unveiled by RNLI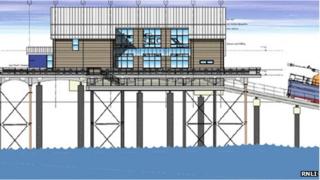 Work on a new £9.5m boathouse for the Mumbles lifeboat is to begin, with construction materials being brought by boat.
It is to be a key feature in the restoration of the 113 year-old pier.
The new boathouse will be built at the end of the pier, which has listed status.
It is expected to take 18 months to complete. There are also £39m proposals to for a visitor and tourist centre around the pier and Mumbles headland.
The project is planned to include a hotel, apartments and a retail development.
Howard Richings, head of estates management for the RNLI, said: "The Mumbles is an iconic lifeboat station and, in common with the other Tamar stations completed in recent years, presents significant technical and logistical challenges.
"The delicate nature of the historic pier means that the materials and construction plant will be brought in by sea to a jack-up barge that will provide the cranage for the piling and building work.
"An additional challenge unique to this project is the extreme tidal range - one of the biggest in the world - this will significantly affect construction of the slipway much of which lies in the inter-tidal zone and will be subjected to strong currents and rapidly changing water levels."
The project for the visitor and tourist destination has divided local opinion.
The Mumbles lifeboat station has been in operation since 1863.