East Pit and Margam mines regeneration plans on show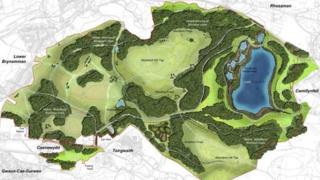 Multimillion-pound plans to regenerate two opencast mines for tourism and leisure have been unveiled.
East Pit in the Amman valley and Margam near Port Talbot are earmarked for energy efficient development, although neither would be ready for at least seven years.
SLR Consulting has been appointed by Celtic Energy and Oak Regeneration as the master planner for the project.
Planner Will Ryan said the aim was to provide a legacy for the sites.
"That's the over-arching intention for both these sites," he told BBC Wales.
"We are aiming to put in place proposals whereby the sites will be reclaimed and regenerated for future generations.
"It's fair to say we don't have a specific figure but the value of the two projects would run into excess of £10m."
Mr Ryan said planning for East Pit was further down the line than Margam and hopes an application will be submitted in November.
East Pit will close in 2018 and he hopes both projects will be completed in seven to 10 years from now.
'Ambitious and exciting'
"It's ambitious and exciting but we want to make sure it's economically and environmentally viable," Mr Ryan added.
"We have no specific proposals at the moment. We are going through a programme for public consultation."
Both sites will involve restoring the landscape and maximise the tourism and renewable energy options though.
A public exhibition has already been held along with a workshop at the Black Mountain centre in Brynamman where about 150 people attended, and more will be held in the summer
"We hope they can see potential of the long-term plans for the site," Mr Ryan added.
In a joint statement, Alan Whiteley from Cardiff-based Oak Regeneration and Rob Thompson from Celtic Energy said: "This is an important collaboration between our companies to create genuinely sustainable legacy projects that can benefit these communities."