Steel giant Tata may delay relighting blast furnace No 4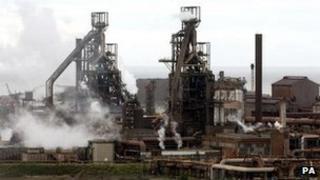 Tata Steel says it may delay the start of production at one of its rebuilt blast furnaces in Port Talbot if the steel market remains subdued.
But the firm insists £185 million re-building work of furnace No 4 will go ahead next month.
It also said the £53 million installation of a new cooling system in the steel-making shop will take place.
Jon Ferriman, hub director of operations at Port Talbot said Tata is committed to steel production in Wales.
"The possibility that we may not relight No 4 immediately following completion of the rebuild in no way affects the project itself," he said.
"Our commitment to giving steelmaking in Wales the strongest possible future remains undiminished.
"By the end of this year Port Talbot will have two state-of-the-art blast furnaces equipped with enhanced safety and environmental features.
"The rebuilt furnace will be capable of producing larger volumes of hot metal more reliably over the course of a long 20-year campaign life."
Tata's chief commercial officer Henrik Adam said any decision about when to restart No 4 needs to take the state of the European steel markets into account.
He added: "We have been fortunate in being able to schedule the rebuild project during a period of relatively subdued demand, but we are conscious that there is likely to be a continuing need to stabilise the market once the rebuild is complete.
"We will only decide to delay the start-up of the furnace if it is clear an extended period of single-furnace operation at Port Talbot will not compromise the levels of delivery and service our customers require."
Tata employs 7,500 people in Wales and said in April it was committed to investments of £240m on projects but it could not be more specific about further investment at this stage.
Conservative business spokesman Nick Ramsay AM, said it was vital the Welsh government held talks with Tata as soon as possible.
"While today's announcement may only be precautionary, it casts a shadow over the promises made by [First Minister] Carwyn Jones," he said.
"The potential mothballing of this site - despite the much-needed investment - is clearly a cause for some concern."