ATL union 'optimism' over Llandovery College £2m debts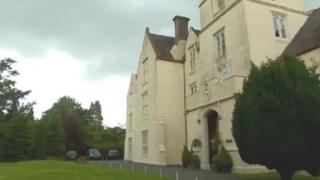 A teaching union says it is "cautiously optimistic" an independent school can negotiate its £2m debt crisis.
Llandovery College in Carmarthenshire is creating a new operating company to escape its "unmanageable" debt.
Its warden, who meets parents later, said the college "simply wouldn't be here" if it did not tackle the problem.
Dr Philip Dixon, of ATL Cymru, said: "I don't want to be too confident because it's a difficult situation but there are grounds for optimism."
The college is holding a meeting for parents on Sunday afternoon to give them details of the planned financial restructuring.
Staff have already been told they will not be paid this month. It is unknown when they will be paid.
However, Dr Dixon said the reports he had received suggested the £15,000-a-year college was on course to come through the current concerns.
The union has around three dozen members at the college which employs about 100 staff and currently has around 300 pupils.
He said: "I'm cautiously optimistic that a solution can be found. I think the college will remain open.
"I'm hopeful that at least a number of jobs might be saved.
"What we're hoping for is that everyone will receive their outstanding money and maintain their current terms and conditions."
Llandovery College is both a private company and a registered charity operating under the direction of the trustees.
Founded in 1847, notable past pupils include Archbishops of Wales, renowned Wales and British Lions rugby coach Carwyn James and rugby star Craig Quinnell, among 40 past rugby internationals, according to the school website.
In the latest accounts published by the Charity Commission for the year ending August 2010, the college was running a deficit of £153,112 but had net liabilities of £2.2m.
Guy Ayling, who took over as warden three months ago, has said debt accumulated over 10 to 15 years had become unmanageable as the school had dealt with a 9% decline in pupil numbers since 2007.
Mr Ayling has said the fall in pupil numbers had bottomed out following some "aggressive" marketing and the college was now looking at its best financial figures for five years.
He has said the "radical action" of freeing itself of the school's historic debt would allow the new operating company to take advantage of the potential cash surplus.
'Clean slate'
He said: "The nature of the game we are in has changed.
"The college simply wouldn't be here if it tried to continue under the old guise.
"A clean slate would be fantastic but probably unrealistic. There will still be financial challenges ahead."