Parents back Llandovery College £2m debt rescue plan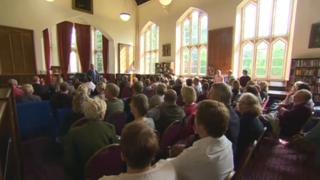 Parents of pupils at Llandovery College have backed a rescue plan to overcome debts of more than £2m which threaten its future.
More than 100 parents heard college warden Guy Ayling outline a plan to close the company operating the school and form a new company.
"We are in a much better position than we've been in a long time," he said.
Mr Ayling said an immediate priority was addressing the lack of pay for the Carmarthenshire school's 100 staff.
The meeting in the college library on Sunday evening ended in applause with parents saying they had been reassured about the future.
Speaking afterwards to BBC Radio Wales, Mr Ayling said: "There is now such a feeling of support from the parents that I could see the real possibility of them coming on board with the investment."
He said this gave the college "far more headroom in terms of its finances than we were perhaps anticipating 48 hours ago".
Massive opportunity
Mr Ayling added: "We are in that very, very difficult position that all staff, academic and non-academic have not been paid.
"Again the new company will seek to address that soon I hope and the staff will know where they stand. And then they and the new company can start looking to September."
A spokesman for the teachers' union ASUWT confirmed school' staff were continuing to work without pay but said a meeting would be held with union representatives next Thursday.
Nigel Watts said he was happy that the college would have a bright future and would get the support of staff.
"Obviously it's a difficult and very worrying time," said Mr Watts.
But he added: "The mood is really positive. All the staff are behind the warden and looking forward to a new start in September."
One parent, Michael Morgan from Ammanford, blamed the school's problems on the wider economic downturn and described the rescue plan as "a massive opportunity for the school, for the local economy".
"I think it's great that they are prepared, especially the new warden, to stake his name to the post and actually deal with it and bring it to a head and just move forward," said Mr Morgan.
Rugby internationals
Llandovery College is both a private company and a registered charity operating under the direction of the trustees.
It has around 300 pupils.
Founded in 1847, notable past pupils include Archbishops of Wales, renowned Wales and British Lions rugby coach Carwyn James and rugby star Craig Quinnell, among 40 past rugby internationals, according to the school website.
In the latest accounts published by the Charity Commission for the year ending August 2010, the college was running a deficit of £153,112 but had net liabilities of £2.2m.
Mr Ayling, who took over as warden three months ago, has said debt accumulated over 10 to 15 years had become unmanageable as the school had dealt with a 9% decline in pupil numbers since 2007.
The fall in pupil numbers had bottomed out following some "aggressive" marketing, he said, and the college was now looking at its best financial figures for five years.