Safety concerns over Swansea Prison's aged building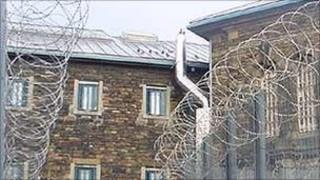 Officials at Swansea Prison say work is needed on the 19th Century building, which is becoming a health and safety risk due to weathering and age.
They are applying for planning permission to stop degradation of the stonework on the Grade II-listed building.
Plans include repairing loose stone work on several sections such as the facade of the main frontage.
The proposals say community safety will not be affected by any building work.
Construction of the prison was completed in 1861, and Swansea Castle was used as a jail before that.
Swansea Prison housed both male and female inmates until 1922, when women were moved to Cardiff Prison.
The proposals, available to view on the Swansea council website , say there has been "degradation of the stonework on several of the buildings... which are now forming a health and safety risk if remedial work is not immediately undertaken".
Councillors will make a decision on the plans at a later date as the prison is a listed building.