Narberth Museum reopens nine years on in Bonded Stores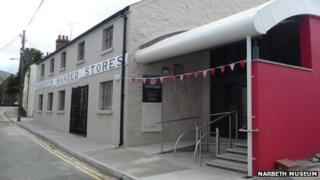 A Pembrokeshire museum has reopened nine years after volunteers began a campaign to find it a new home.
Narberth Museum reopened on Saturday in the town's once derelict Bonded Stores, a 100-year-old industrial warehouse.
The museum's 15,000-strong collection of social history items was put into storage when it closed after needing to move to a new home.
A grant of £586,500 from the Heritage Lottery Fund helped volunteers to realise their plans.
Narberth Museum curator Pauline Griffiths paid tribute to the work of local people and an active "friends" group in helping to keep the campaign going.
She said people had thought it would take three years to open a new museum, but it eventually took nine due to the time to raise and source funding.
"It has been an endurance test and testament to the volunteers," she said.
The Welsh government also contributed funds to the restoration of the Bonded Stores, from where the firm of James Williams Ltd blended and bottled whisky, rum, brandy and port, and stored it before being sold.
Barred windows
Security at "the Bond" needed to be tight and the original, distinctive barred windows have been retained.
The imposing entrance door with its two padlocks - one to be opened by the revenue inspector and one by the stores manager - can still be seen.
The ground floor houses research facilities for local and family historians, students and visitors with a community room, coffee shop and a gift shop.
First floor exhibitions and displays tell the story of Narberth with the earliest TV, a rare bike and many other artefacts.
"Volunteers have played a significant role in making this project happen," said Dr Madeleine Havard, a member of the HLF Committee for Wales.
"We hope the opening of the museum encourages more people to get involved in their local heritage."