RSPB marks 20th anniversary of owning Ramsey Island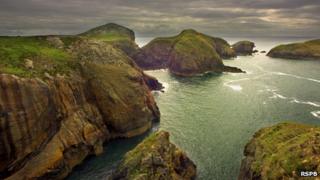 The removal of rats from a Welsh nature reserve has been hailed as the biggest conservation success there in two decades of RSPB ownership.
The bird charity is celebrating 20 years since it bought Ramsey Island, a mile off the Pembrokeshire coast.
Warden Lisa Morgan said some bird numbers had increased by over 400% in the 12 years since rats were removed from the island.
The anniversary is being marked by an art exhibition in St David's.
Ramsey, which is two-and-a-half miles long by a mile wide, has a rich and diverse landscape.
It was designated as a national nature reserve in 1996.
Its cliffs, up to 400ft (120m) high, are seen as a perfect place for breeding seabirds, while its secluded beaches are home to Atlantic seals.
The island's nesting birds include kittiwakes, shearwaters, peregrines and choughs, with a large number of migrating birds resting there during the spring and autumn.
The island has also seen its first breeding storm petrels, while a record 700 seal pups were born there last year.
There is also a working farm on the island which has about 180 sheep, five Welsh Mountain ponies and 10 red deer. They graze the land to help keep it under control.
It is also home to husband and wife Greg and Lisa Morgan, who have been its full-time wardens since 2005.
They are joined for part of the year by reserve assistant Nia Stephens.
'Increased numbers'
Mrs Morgan told BBC Radio Wales: "The rat eradication...is the really big conservation success story of the last 20 years.
"With things like Manx shearwaters, burrow nesters just like puffins, numbers have actually increased by over 400% in the last 12 years since we removed the rats."
Last year a project to encourage puffins back to Ramsey involved the placing of 200 decoys - model puffins - around the island.
Mrs Morgan said the results had been encouraging but patience was still required.
"Puffins are giving us a little bit more of a hard time," she said.
"They are certainly starting to come back towards the island. We see them everyday right under our cliffs mixed in with our other sea birds.
'Progress'
"That's a very recent thing. Perhaps just in the last three or four years that's started to happen. So we are seeing signs of progress.
"It's over 120 years since they bred previously so if we can get them back within the next ten or twenty years we'd being doing quite well."
Ms Stephens, 24, who is originally from Cardigan, Ceredigion, works on the island for six months a year and 2012 is her second season.
"It's an amazing place to live," she said.
"You have to be a certain sort of person because it's obviously quite isolated, but we don't get lonely because there's lots of interesting people to meet and talk to."
RSPB Cymru's art exhibition opens at Oriel y Parc Visitor Centre and Gallery in St David's on Wednesday.
It features oil paintings by local artist Rhian Field which depict the island's wildlife, landscape and buildings.