Fishguard ferry passengers hit by derailment says Arriva Trains Wales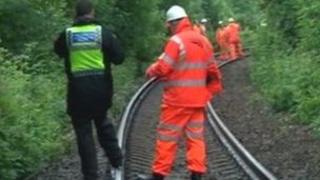 A train derailment in Pembrokeshire is set to affect ferry passengers until Monday, a rail firm has warned.
Arriva Trains Wales said 30 passengers were on the Gloucester to Fishguard Harbour service when it hit cows on the track at about 19:00 BST on Thursday.
No-one was injured but the line is expected to stay closed over the weekend while damage is repaired.
Engineers hope to return the derailed train to the track on Friday as replacement buses are laid on.
Arriva Trains Wales said the bus service will operate between Carmarthen and Fishguard Harbour but it warned passengers to allow more time for their journey.
An Arriva spokesperson said: "Efforts will be made today to re-rail the train.
"The line will be closed today. There has been some damage to the track so the line will be closed until Monday morning.
"It will affect passengers catching the ferries to Ireland, it will add time to their journey.
"All other services west of Carmarthen to Milford and Tenby are not affected."
It is understood the first car of the train derailed at Welsh Hook, near Wolfscastle.
Fire crews evacuated the train of passengers and crew and and walked them up the track to the road where they were met by a coach to continue their journey.