£1m lottery winner Gavin Davies jailed for girlfriend attack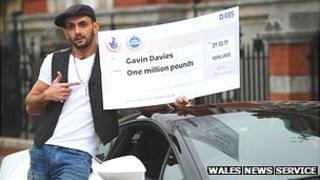 A £1m lottery winner and former professional cage fighter has been jailed for attacking his girlfriend in one of his luxury cars.
Gavin Davies, 30, from Ammanford, Carmarthenshire, was sentenced to 16 months for striking Daniah Hussain three months after picking up his win.
Swansea Crown Court heard that Davies blamed the attack on the strain of becoming an overnight millionaire.
Davies admitted actual bodily harm and common assault at a previous hearing.
The court hard that Davies bought three luxury cars after winning the money, including a Lamborghini LP560-4.
On the day of the attack, Davies and Miss Hussain, 22, were in his "everyday" Audi when they started arguing.
The court was told that Davies pulled over and tried to strangle Miss Hussein with the Audi's seatbelt.
James Jenkins, prosecuting, said: "They were bickering and arguing from the outset of their journey. Davies pulled into a lay-by and told her to get out.
"But she refused because the baby was in the back.
"Davies loosened the seatbelt around her neck and started to strangle her with it. She froze in fear."
The court heard the assault stopped and they carried on shopping, with Miss Hussein wrapping a blue baby blanket around her neck to hide the marks.
Mr Jenkins said Davies later began "repeatedly striking" Miss Hussein as she sat in the passenger seat of the car.
Unpleasant injuries
He told police that he was trying to restrain her because her behaviour was endangering other road users.
Frank Phillips, defending, said: "He blames his behaviour on the strain of becoming a new father, winning the lottery and moving house.
"They were very unpleasant injuries but not of a serious nature."
Davies accepted he had repeatedly punched his girlfriend, but denied it was as many as 50 times nor that he had spat.
The actual bodily harm charge related to the incident in the car in April, while the common assault dated back to last December.