Neath Port Talbot Hospital changes brought forward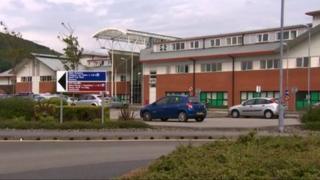 NHS managers have brought forward changes to acute medical services at Neath Port Talbot Hospital.
All 999 emergency admissions and GP referrals to the hospital will end from midnight on Tuesday, 21 August.
Beds on one of three wards as well as the medical assessment unit will transfer to neighbouring hospitals.
Abertawe Bro Morgannwg University Health Board (ABM) is introducing the changes because of difficulties recruiting enough doctors.
But it says it has brought the changes forward to overcome potential difficulties which could be faced by the upcoming Bank Holiday weekend.
The full service changes will be completed by 3 September.
Local politicians are concerned about the changes but ABM says it has no plans to close the hospital.
Chief operating officer Alex Howells said: "The days - up to a fortnight - following a Bank Holiday can be very busy, with high demands on our services.
"Our senior doctors and nurses are advising us that that it would be preferable to avoid adding to this annual pressure with the urgent service change going on at the same time.
"The earliest we will be in a position to do this is next week, so we have agreed these admissions to Neath Port Talbot Hospital should cease from midnight on 21 August."
Mr Howells said the move would allow ABM to make the biggest changes in advance.
The expanded Clinical Decision Unit at Swansea's Morriston Hospital will be available from 22 August, as will 22 beds at Ward 6 in Singleton Hospital and 10 beds in Ward 20 at the Princess of Wales Hospital in Bridgend.
These beds, which along with nursing staff are moving from Neath Port Talbot Hospital, will accommodate Neath Port Talbot acute medical patients affected by the change.