Three Cliffs Bay, Gower: Three children, father rescued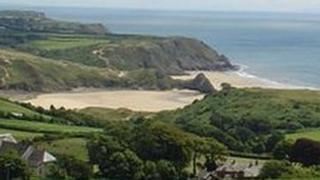 Coastguards have warned of the dangers of tides and currents after three children and their father were rescued on the Gower peninsula.
The alarm was raised by the mother after they were swept out to sea at Three Cliffs Bay on Tuesday.
All four were flown to Morriston Hospital, Swansea, having swallowed water and suffering from shock.
The coastguard also broadcast a distress message to which several vessels in the area responded.
An RAF helicopter and Mumbles inshore lifeboat and Oxwich coastguard team attended.
When rescuers arrived one of the children had managed to get to rocks and was rescued by the lifeboat from there.
The other two children and their father were picked up from the water by the lifeboat.
The Swansea rescue was the result of one of a number of 999 calls received by coastguards around the UK on Tuesday after bathers got into difficulty in rip currents, a current that moves quickly away from a shore and that can drag people out to sea and beyond their depth.
"These children, teenagers and adults have been extremely lucky today, and we are thankful of a safe outcome," said Mike Puplett, Humber coastguard watch manager.
"Strong currents are unforgiving, and I urge all beach users and bathers to be aware of the inherent dangers."
David Jones, Swansea coastguard watch manager added: "If you are visiting the beach try to go to one which is patrolled by lifeguards and swim between the flags.
"Take notice of any warning signs. In an emergency tell the lifeguard if one is available or if on a unguarded beach call 999 and ask for the coastguard."