Climber airlifted after fall near St Govan's Head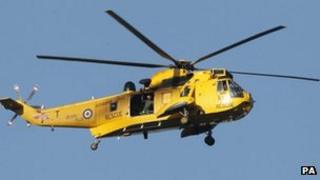 A climber was airlifted to hospital after falling onto rocks at St Govan's Head, Pembrokeshire.
The 23-year-old from Oxfordshire suffered pelvic, leg and chest injuries after he slipped and safety clips gave way at around 18:45 BST on Tuesday.
Milford Haven coastguard said land teams from St Govan's Head, Tenby and Manorbier went down the cliff to him before the rescue helicopter arrived.
The man was flown to Morriston Hospital in Swansea. His condition is not known.
A coastguard spokeswoman said the man, from Yarnton, was climbing with a friend, who is from Wotton-under-Edge, Gloucerstershire, near St Govan's Head.
She said: "He slipped and two pieces of his protective equipment pulled out. The third piece held him. Just.
"As he impacted the rocks, the third one came out. He had injuries to his pelvis and left leg and some chest problems."
She said the coastguard teams prepared the man for being winched up by the rescue helicopter from RAF Chivenor.
'Tides'
The rescue comes as coastguards have warned of the dangers of tides and currents after three children and their father were rescued on the Gower peninsula.
The alarm was raised by the mother after they were swept out to sea at Three Cliffs Bay on Tuesday.
All four were flown to Morriston Hospital, Swansea, having swallowed water and suffering from shock.