Swansea illegal parkers face camera car instant fines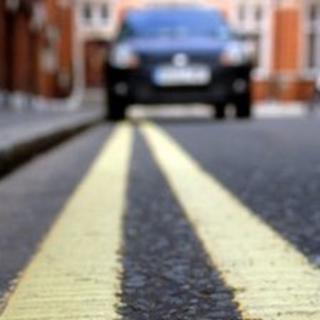 A camera car could be introduced to tackle illegal parking, mostly at bus stops and outside schools in Swansea.
The city council has agreed to a £77,000 scheme, but will ask the public for their opinion first.
The mobile camera would not replace wardens, but it covers a wider area and does not have to wait five minutes before handing out a ticket.
Swansea council would also use the mobile technology at problem areas like Gower and the Liberty Stadium.
The plan has come through a revised civil parking enforcement strategy.
"We've had a lot of complaints from residents and others about indiscriminate parking outside schools, in front of driveways and bus stops," said June Burtonshaw, Swansea council's cabinet member for place, which involves looking after highways.
"At the moment, we allow five minutes before a traffic warden issues a ticket, but by that time is up, the driver is back and driven off, but has caused an obstruction.
"The camera is attached to a vehicle and can issue a fine instantly, and it can go anywhere.
"I've had no end of telephone calls from people saying how pleased they are that we are doing this."
The cost of a camera and software would be about £50,000, along with £5,000 expenditure and an extra member of staff.
Key areas
But Mrs Burtonshaw said the scheme would pay for itself once launched.
A civil parking enforcement strategy report to the council said the system could be used both on and off street.
"The equipment could be used for civil parking enforcement in key areas such as bus stops, near schools, pedestrian crossings, clearways and permit-only areas.
"The equipment could also potentially be used to enforce in car parks where cashless parking was offered."
It added: "The introduction of mobile enforcement would not remove the need to have traditional on-foot enforcement.
"The legislation allows councils to use this equipment in problem areas, where enforcement is difficult or sensitive or civil parking enforcement officer (CEO) enforcement is not practical.
"The Gower area, particularly in the summer months, has problem locations where narrow roads are often restricted even further by inconsiderate parking.
"There are also areas surrounding the Liberty Stadium where risk assessments prevent officers patrolling on foot."